Jeep Transmission Yokes
Transmission Slip Yoke identification procedure:
See Measure instructions on Master Transmission Page Jeep has to be the simplest when it comes to slip type yokes. As far as we know Jeep only used 2 types. We offer a third type which puts a CV on the end of the slip yoke. We don't really recommend this type. We suggest a slip yoke eliminator kit and a bolt on type CV end yoke and CV shaft. The OE tailhousing is fairly weak and supporting the CV is questionable, especially with a lift kit and increased stress.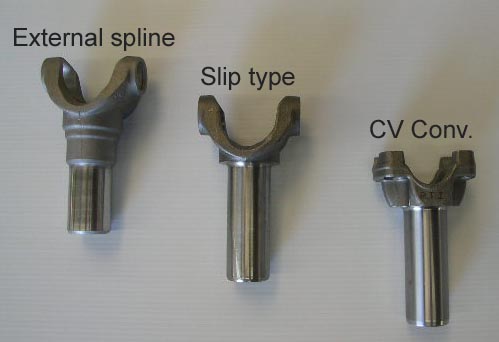 Notice the Jeep Transmission and Transfer case Yokes (same yoke) have large throw where the U-Joint fits. This gives the yoke a hi-angle capability. You should not use a regular 27 spline yoke on a Jeep. The U-Joint can hit a regular yoke and bind, breaking the yoke and possibly cracking the tailhousing.
We offer complete Jeep Driveshafts of all types. Please see the Jeep section in the Truck Driveshaft page. Call if you don't see what you need.
1.866.455.6622 Toll Free