Audi
Replacement Driveshafts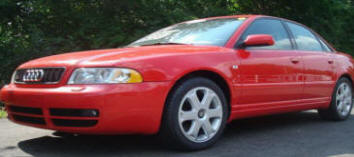 Driveshaft Specialist offers new and remanufactured driveshafts for most Audi Products. We are building inventory so we may not have all models available.
Models Covered (most cases) A4 - A6 - A8 - AllRoad - S4 - S6 and others. Please call with specific model information.
We may need the last 9 of the VIN for additional identification.
$479.00 is Average Pricing with shipping included.
$765.00 for certain models with shipping included.
$80.00 additional temporary Core Charge. Return shipping of the old driveshaft is prepaid. We include a pre-paid UPS return shipping label.
EVERY Single Moving Part and Component is replaced with New Parts. The Driveshaft arrives Fully Assembled, Hi-Speed Balanced and Tested for Performance Prior to Shipping. Our Re-Manufacturing Process is done EXACTLY as the German Engineer's did Originally. No Cutting-Grinding or Mutilation of the Original Driveshaft.
We may need the Last 9 of the VIN # when calling for information on Audi.
Core Return Procedure (old driveshaft return process)
We try to make this process as painless as possible for you.
We will provide a Pre-Printed/Pre-Paid UPS Return Shipping Label. Simply use the carton the New Driveshaft arrived in. Put OLD Shaft in Box - Seal It - Apply NEW Label over the Original shipping label and Give to ANY UPS Driver or leave at any UPS Drop OFF Location. As simple as we can make it.
CORE CREDIT is Typically issued within 7-10 BUSINESS Days of Old Unit Arriving at our Locations. It takes a little time to check in the old driveshafts and get the paperwork processed. We Do Not Want your Core Deposit money! Please send the old Driveshaft Back!
Most Cores are Re-Usable and we issue refunds on 99.99%, but if the driveshaft has been run beyond the limits - No Core refund is possible. Note: If your old Driveshaft is damaged beyond repair, Please let us know up front if the old driveshaft has bent tubes, broken ends or any abnormal wear. We will advise up front if the core credit could be denied.
Remanufacture and Return Service available for most Driveshafts if we don't have an Exchange Unit available.
Please call for exact pricing and availability.